Wallace & Gromit: All Hands On Deck!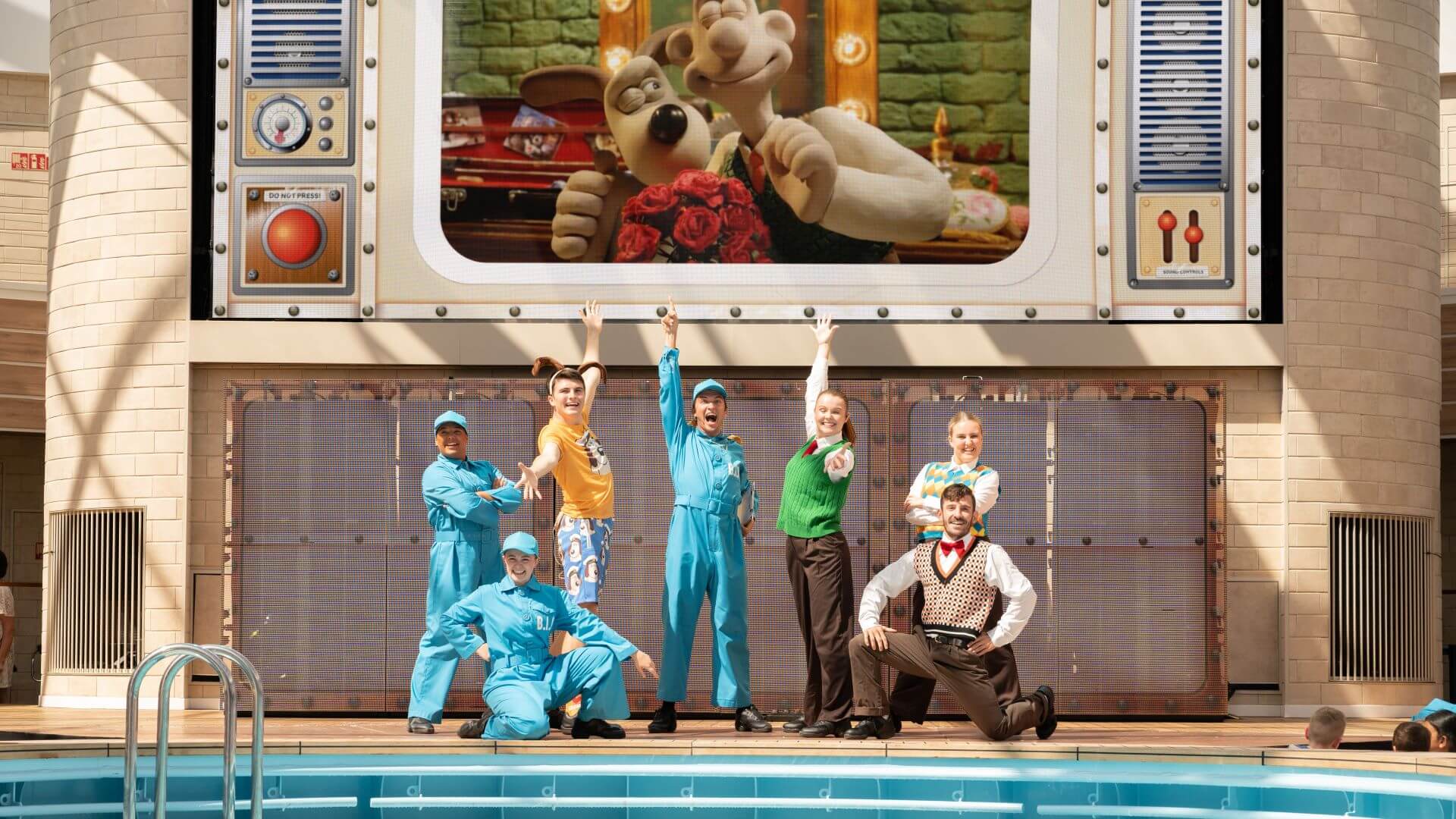 Aardman has partnered with SGA Productions to launch a brand new Wallace & Gromit live show for P&O Cruises' newest ship, Arvia.
Wallace & Gromit's 'All Hands On Deck!' sees Wallace & Gromit starting their new roles as Chief Ideas Officers on board Arvia, featuring the 'Big Ideas Crew' who invite the audience to put their thinking caps on to help fill Wallace & Gromit's Big-Ideas-O-Meter. The Big Ideas Crew reveal themselves to be superfans of Wallace & Gromit, eager to impress the duo with their own inventions. Through the power of song, dance, montage and laughter they fill the Big-Ideas-O-Meter just in time for Wallace & Gromit's arrival on stage, and after the show the duo host a meet and greet with guests. In their starring roles on board, Wallace & Gromit have been dressed in their very own bespoke P&O Cruises officers' uniform, alongside a variety of other incredible costumes: including a walking Cruise-O-Matic invention, dancing cheese, techno trousers and also featuring bespoke voice over from Wallace (Ben Whitehead).
Performed under the ship's SkyDome, the show is uniquely positioned facing a swimming pool, a retractable glass dome roof above and a huge LED digital screen behind. This key family performance is scheduled on sea days as one of the entertainment options on board. The show will be available on selected cruises. Arvia's maiden sailing to the Mediterranean took place over Christmas 2022, before it travelled across the Atlantic to port in Barbados in the Caribbean for the winter season.
Aardman and P&O Cruises were keen to capture this unique collaboration within the creative identity, so developed and built a set of bespoke puppets, a PR still and logo as part of the marketing delivery package.
The show was produced by SGA Productions who Aardman has worked with on many different projects, including Aardman Presents: A Grand Experience at Land's End, Championsheeps Live, Shake It With Shaun and most recently the Farmathlon event package. The costumes were created by Costumes With Character, one of Aardman's  global character costume manufacture partners.