Published 15th August 2022
Studio Spotlight: Grace Conway
This week, we're shining the spotlight on Marketing Assistant Grace Conway, who joined Aardman through an apprenticeship programme in 2021. Read on to hear what it's like to learn on the job, and how Grace's skills have developed during her year at the company.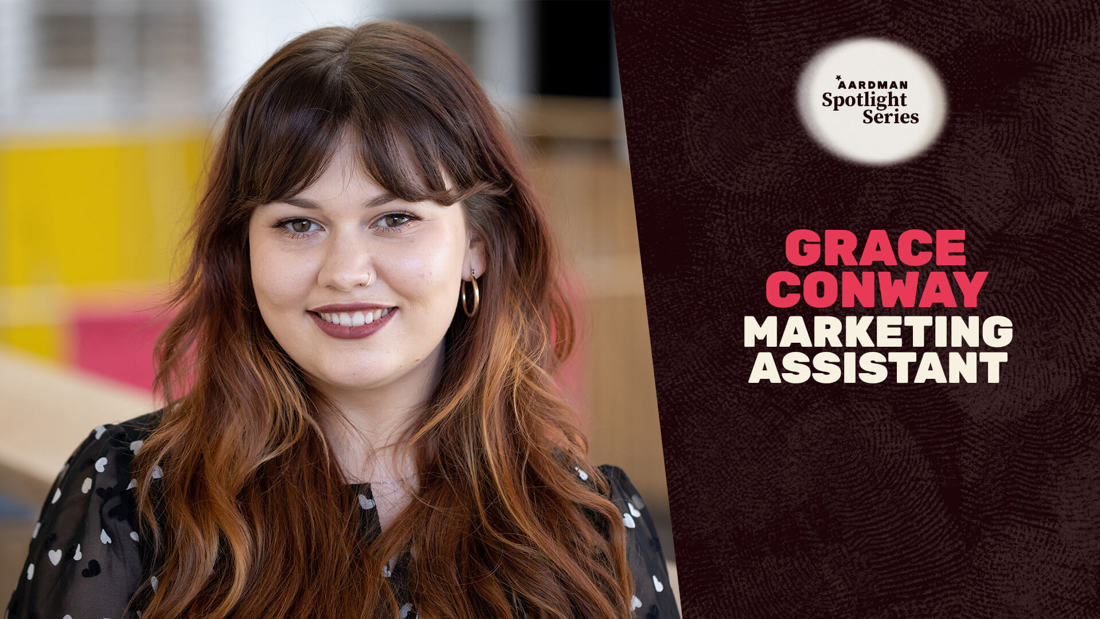 Tell us about your role at Aardman – describe a typical day:
One of the things that I love about my role is every day is different. Usually the first thing I will do in the morning is answer design approval emails from our international agents, mostly in Japan.
Then if I'm working from home I will join our morning hangout with the marketing team, which is great because sometimes that could be the only time I see them that day and it gives us a chance to catch up with each other informally, before we start our day. However, if I'm in the office we will usually go down to the canteen and grab a cup of tea or coffee, which is great because I usually get to see lots of different people in other departments too.
After that I will usually try to make a start on whatever I'm working on before my meetings begin, it's not unusual to be in 5 or 6 meetings a day so I try to spend any spare time wisely to ensure I'm up to date on any outstanding work.
The rest of my day varies so much and I usually get requests to support various different members of the team throughout the day, which always keeps me on my toes!
What are the benefits of your apprenticeship programme?
There are loads of benefits to my apprenticeship programme, one of the biggest benefits for me is I get to learn on the job, all whilst working towards my qualification. I always had an interest in marketing but felt like I would never get the opportunity to work in a marketing team due to my lack of experience, but the great thing about the apprenticeship scheme is it's all about learning new skills, so experience wasn't necessary for me.
I definitely have a huge advantage because my colleagues are so supportive, I have to ensure that I cover all areas of marketing for my course, so they're great at facilitating my workload to meet my criteria. I like to think that my course has made me a bit of a 'Jack of all trades' because of all the areas I have to cover, whereas I may not have had the opportunity to work on as many projects if I hadn't started my apprenticeship.
What's your all-time favourite project that you've been involved with and why?
My all-time favourite project I've worked on would probably have to be working on our new CG comedy series Lloyd of the Flies. This has been one of my favourite projects because I've had the rare privilege of getting to be on the team since the very beginning, so I feel like I know the brand really well. I've been able to assist in the creation of the style guide, which has been a really interesting and beneficial learning process, amongst lots of other things. It's great to be able to work alongside the CG team, they're so creative and I wouldn't usually get the chance to see what they do, so that's really special.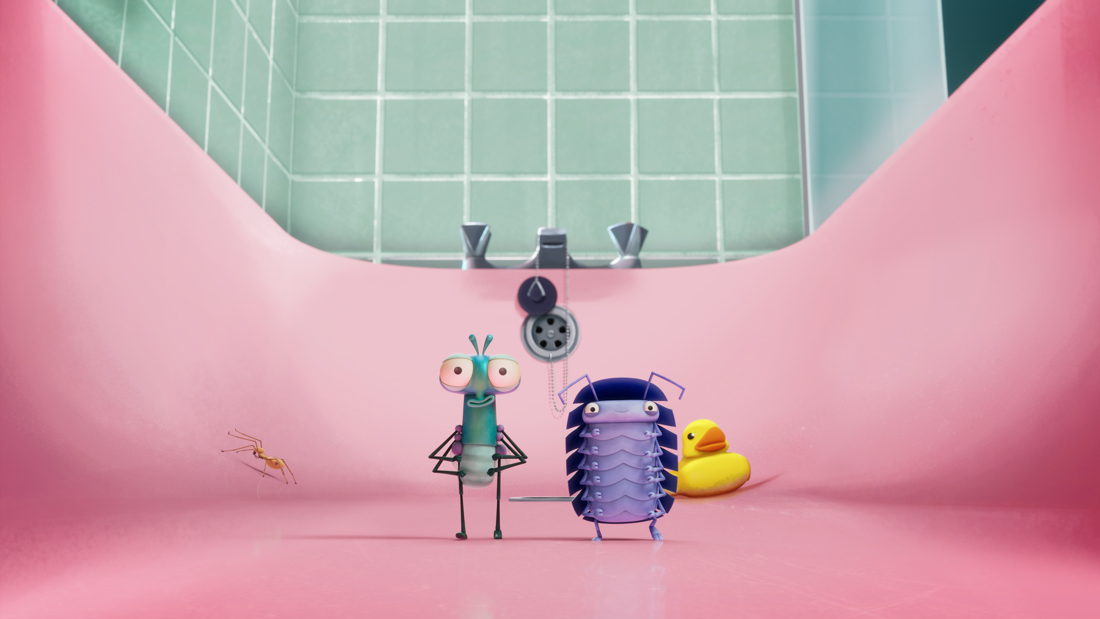 To date, what has been your biggest professional achievement?
I think taking ownership of design approvals from our international agents is a huge achievement for me. Approval requests vary so much, I can be sent anything from promotional materials to go in a supermarket in Japan or a new menu for one of our Shaun the Sheep cafés. I've developed so much confidence in my role since taking responsibility for approvals and I've gotten to know the brand guidelines really well, which is very useful in my role. I've gotten the chance to develop strong working relationships with our international agents all over the world and been involved in some really interesting campaigns, such as working with German Youth Hostels and attractions such as Skånes Djurpark which is a Shaun the Sheep attraction in Sweden, which I feel extremely lucky for!
Name three people who inspire you and why:
I know it's cheating but both my Mum and Dad are such an inspiration to me. They have worked so hard in their careers and I'd like to think that they have passed on a great work ethic to my brother and I. My Mum completed her degree later on in life, all whilst working full time and raising two children – with the help of my Dad! She is now a HR Manager in the healthcare industry and shows so much compassion and humility in her role, which I find admirable. My Dad has shown me that like him, I can achieve anything if I work hard enough. He has been an engineer his whole working life, beginning his career as a maintenance technician working mostly nights to now being promoted to Technical & Service Director. I am so proud of all they have achieved and can only hope that I follow in their footsteps.
Another person who inspires me is my manager, Emily. She is so on the ball and the knowledge that she has is admirable! She is extremely passionate about her role at Aardman and that shines through in her work, which is all done to an extremely high standard. Emily is a great manager, she makes me feel so supported in my apprenticeship and helps me to excel in my role. But Emily is also a great friend, she is interested in how I'm doing at work, but she also takes an interest in how I am personally and is always there to listen, should I ever need her to. Emily is destined for great things at Aardman and it's a privilege being part of her team.
Someone else who inspires me, is my partner Joe. He was one of the first people who encouraged me to pursue a career in media, and has always been my biggest cheerleader. Joe is admirable for many reasons, but one of my favourite things about him is his passion for music. Any instrument that he picks up he's annoyingly good at playing and he can play nearly any song you ask him to mostly from ear. In the last year he has started his own band called Carsick and in less than a year they have already achieved so much, from being played on BBC Radio 1 to being put on the line-up to play the main stage at Truck Festival. Whilst Joe has his own passions, he is still so supportive of my career, he even wears my Aardman t-shirts on stage at his gigs. I can't wait to watch Joe achieve amazing things and (with a bit of luck), hopefully we'll be the next famous power couple?
Who is your favourite Aardman character and why?
My favourite Aardman character has to be Grandsanta from Arthur Christmas. His one liners are second to none, my partner and I quote him more often than I'd like to admit. He's mischievous and so effortlessly funny but has a lovely warmth to his character, which I think is one of the things that Aardman does best.