Published 13th April 2023
Production spotlight: Heather Carby - Junior Set Dresser & Prop Maker
This week, we're shining the spotlight on Junior Set Dresser and Prop Maker, Heather Carby. Read on to learn more about Heather's experience, inspiration, and what it's like working behind the scenes at Aardman.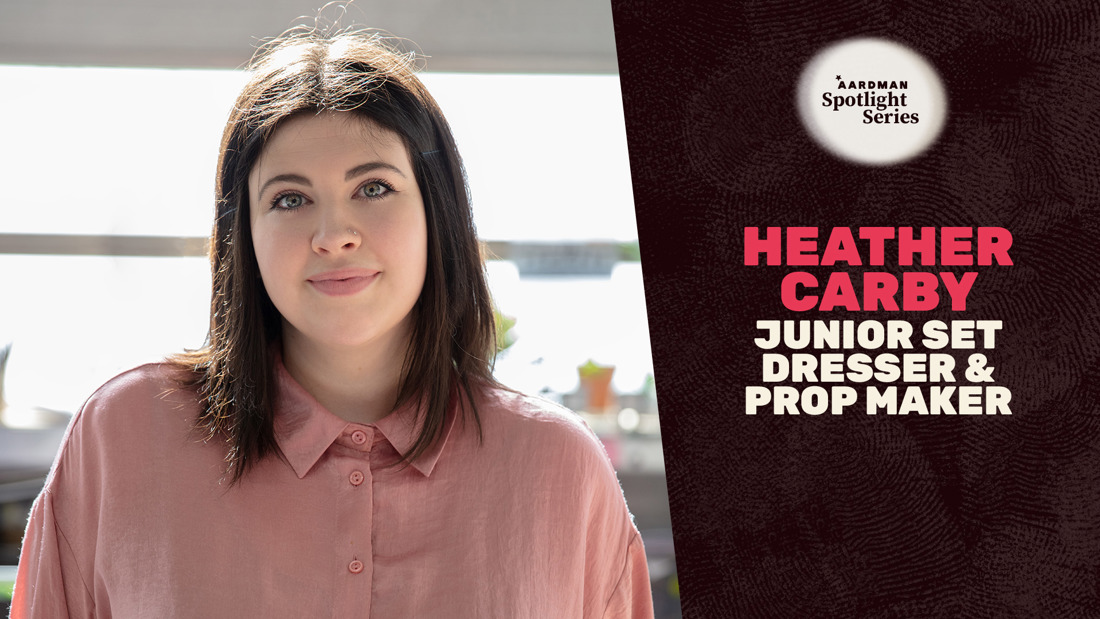 Tell us about your role at Aardman – describe a typical day:
My job is split into two separate roles; the first being prop making where I fabricate a variety of organic, technical and puppet props from designs and reference images. Methods of making can involve sculpting/carving, woodworking, texture effects and painting/finishing. My second role is set dressing, where I make pieces of set (such as grassy banks or building facades) then take them into the studio to assemble and dress for the camera. 
From 9am each day I have to be readily available to answer walkie talkie calls. These calls will send me to set visits with directors, to perform repair jobs and set tweaks, or to help out a colleague who needs an extra pair of hands. Some days I'll spend my time at my desk working on a certain prop, other days I'll find myself crawling around on sets, adjusting tiny wired leaves and fluffing up grass as I go.
What's your all-time favourite project that you've been involved with and why?
Whilst there isn't a particular project that stands out above the rest, I do have a favourite aspect of each job which is visiting a set for the first time. There's a great feeling of pride and gratification when touring a recently completed set - which has been created as a result of months of work by myself and my colleagues across different departments. Visiting these sets allows you to momentarily enter a different world. I've had the pleasure of strolling down a life-size ship on The Little Mermaid, exploring an ornate, alien spaceship on The Eternals and walking through a kitchen where everything is more than twice the size it should be on Cats.
To date, what has been your biggest professional achievement?
It would be getting my job here on Chicken Run: Dawn of the Nugget. During the interview process I discovered that there were over 1000 applicants for the role I applied for, so receiving the call that I'd be joining the team was an astounding feeling. Accepting the job meant moving across the country to start a new life in Bristol, which presented its own challenges during the midst of the pandemic. I was also going into an industry sector I had no experience in, but found I settled into the new environment very quickly, something made easier by having such welcoming co-workers. Even two years after joining Aardman, I still find myself walking through the studios with feelings of excitement and pride at being here.
Name three people who inspire you and why:
I'm hugely inspired by the women I work alongside. It's a gratifying feeling to be surrounded by so many talented female colleagues in what's usually a male dominated industry. Seeing my colleagues break old-fashioned stereotypes to thrive in roles such as HODs, art directors, senior prop makers and skilled carpenters is both refreshing and encouraging.

Another of my other greatest inspirations is my mum. She's one of the kindest, most optimistic and merry people I know. Her attitude to life influences me everyday - I try to reflect her character in my work life, to bring joy and enthusiasm to others.

My inspiration for entering the world of film & entertainment itself was coming across behind-the-scenes footage of The Lord of the Rings. I remember sitting in my bedroom after school one evening and finding the videos online, becoming mesmerised by all the creative work and the secrets they revealed. I stayed up until the early hours of the morning watching them all, with a growing sense of awe and a longing to be a part of it - not realising it was an accessible industry that I myself could work in one day. 
Who is your favorite Aardman character and why:
It's got to be Babs from Chicken Run. Her lines in the films were the ones I would laugh at the most and her friendly, slightly ditzy charm led her to become a very lovable character. I found myself relating to her bubbly personality, soft-hearted nature and her sometimes surprising optimism; although our similarities end at her dislike of gravy - I couldn't be without the stuff.