Published 11th February 2022
Production Spotlight: Camrhon Mitchell - Trainee Animator
Last year, Aardman teamed up with The Secret Story Draw, an initiative dedicated to placing Black, Asian and Minority-Ethnic illustrators and animators into studios around the UK.
Camrhon Mitchell won a three-month paid Trainee Animator internship at Aardman, working on Chicken Run: Dawn of the Nugget. Read more about Camrhon's role, the departments he worked across and his career aspirations in our latest Spotlight Q&A.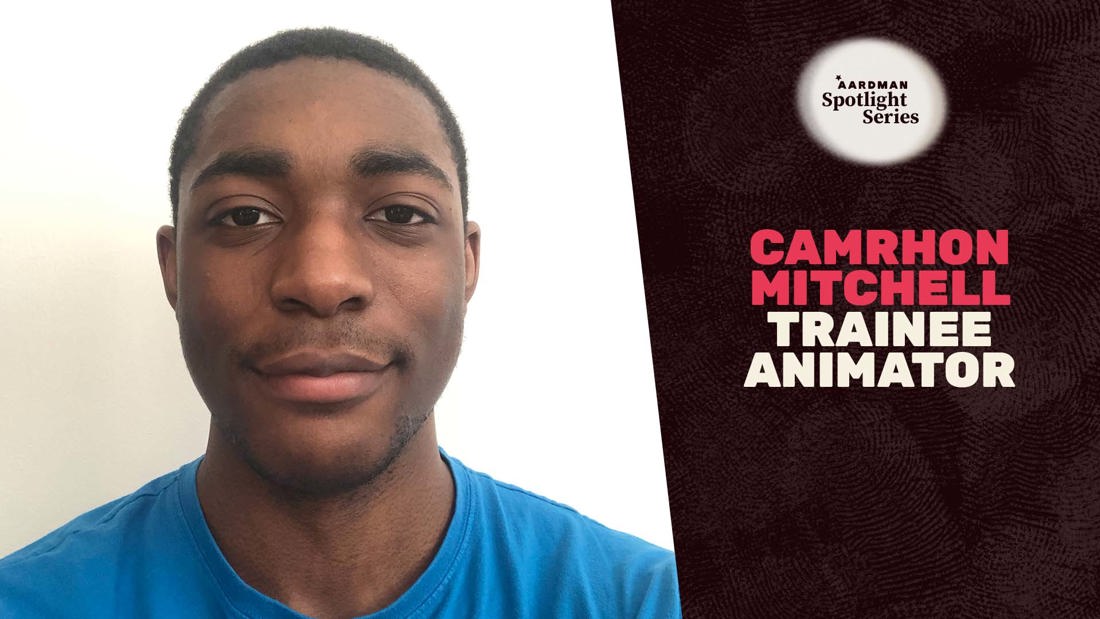 Describe your typical day…
My day would start off with a team meeting to figure out what goals the assistant animation team would need to hit, then we would get started on the day's work. This would consist of making cheeks and beaks with a press mold for background chickens and main chickens such as Rocky and Ginger.

What new skills have you learnt during your internship?
During my internship I learnt many things from different departments throughout the studio. My time during animation I learnt about the different techniques for smoothing clay, sculping with precision and working on my character animation. In the art department I learnt how to make miniature rocks, pour resin into silicone molds, and making artificial plants. While I was in the lighting department I got to learn about painting with light, how to setup lights on different sets for different lighting situations and a little bit of soldering. In the rigging department, I learned how to set up rigs for animators and learning about the different clamps and component options that are available for different scenarios.

What are your career ambitions?
I would like to gain more experience working on stop motion projects and develop my skill set enough to return to Aardman as an Assistant Animator. I would also like to continue making short films and inspire others to keep pushing stop motion to higher levels.

Tell us more about the Secret Story Draw
The Secret Story Draw is a competition aimed at broadening and diversifying the animation industry in the UK, giving internships to Black, Asian and Ethnic Minorities. Getting a foot into the animation industry is very tough due to there being a lot of competition, so it's amazing that this opportunity is available for people to learn on the job and start forming their careers.

What's your favourite Aardman character and why?
Feathers McGraw. I love how crafty he is, you'd never expect an innocent penguin to be a criminal mastermind.