Published 4th October 2022
Lloyd of the Flies Spotlight: Conrad Moody - Lighting & Comp Artist
Next in our Lloyd of the Flies x Spotlight Series takeover, we chat to Conrad Moody, who takes us through a typical day in the life of an Aardman Lighting and Comp Artist...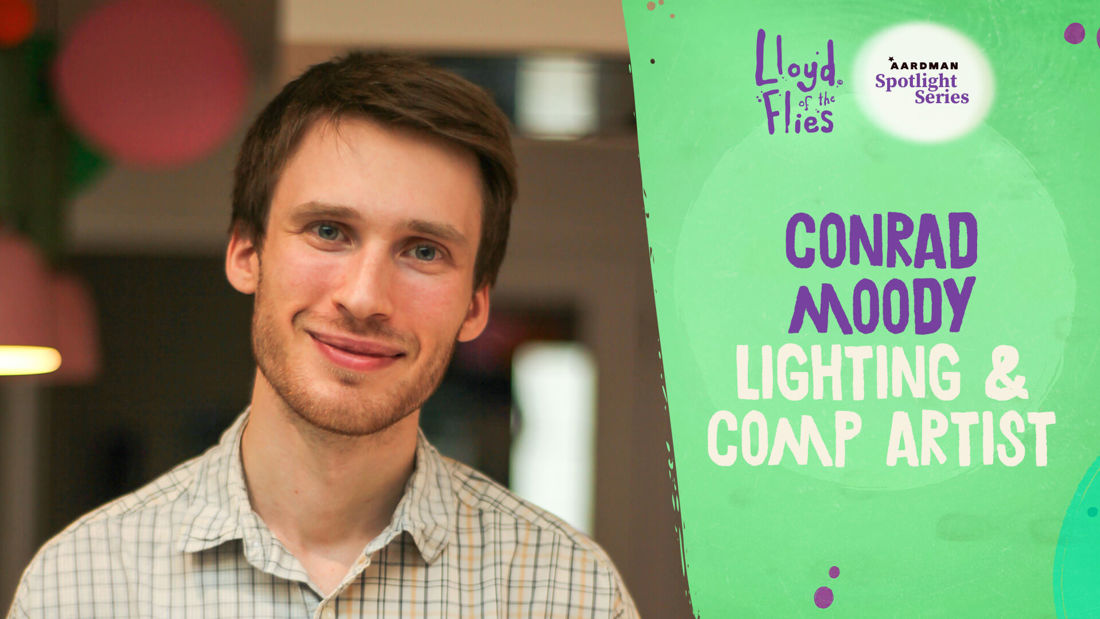 How did you start out in the industry and what role or roles have you had while working at Aardman?
Both of my parents were part of the wider creative industry, so much of my inspiration to pursue film/tv came from them. I would make short films with my friends in the park, usually about exploding tennis balls or zombie attacks, the best topics. Someone needed to edit them and add the effects. My siblings were practicing animation, so I had a bunch of tools available to me, so I did it. We usually never finished them, but it got me into learning CG.
I came across one of the BFI's animation courses for 16–18-year-olds. It was £50 for a week's intensive course, living away from home learning about the industry and making your own film. This led me to a runner position in a production company as a placement which was my first role in the industry. 
I ended up studying at The University of Hertfordshire, 3D Animation/Visual Effects for Film and television, and in my second year I gained an internship at Framestore as a Lighting TD, working on Paddington 2. The following year, I graduated and started at MPC as a Lighting Artist on The Lion King (2019 not 1994). However, I wanted to expand my knowledge as I love the whole process. So, I went on some career exploration for a year or so, doing many smaller, different roles.
I put together a shiny modelling portfolio and applied for Aardman's Set Generalist role for the brand-new series Lloyd of the Flies for initially a 5-week contract. I was convinced the role was way out of my reach and wouldn't come to anything, so I was pleasantly surprised when it did. We modelled the sets for the background artists to paint over, and gradually more opportunities to expand the role appeared. Roughly a month after starting, production introduced modelling some of the episodic characters into the mix, with additional prop modelling, texturing and lookdev. It was a little nerve-wracking as I'd not really had much industry experience in the roles, but I was so excited to just have the chance to do and learn it all!
As production progressed, I went on to help test the pipeline for lighting and compositing. This led me into the respective role later in the year, which is the role I am currently in. Between the testing phase and the official start of lighting/compositing I assisted inside the layout department for the first few episodes which ended up being a very valuable experience, and a brilliant group of people to work with. 
To date, what has been your biggest professional achievement?
Constructing the title sequence from layout to lighting/comp (excluding animation) for Lloyd of the Flies. It combined nearly everything I learned during the production until that moment. Exploring the problems and challenges, creating a plan, and executing it gave me a great sense of responsibility, and with it being such a key element of a show which is clearly so special to everyone who works on it; I feel a huge sense of pride… So It might take a long while for something to overtake it.
Name three people who inspire you and why:
My parents continue to inspire me constantly. They both had careers in the entertainment industry, my dad's being acting, which spanned for decades, and my mum danced for the Royal Ballet around the world before switching to teaching pilates. I doubt I would've pursued the entertainment industry if it wasn't for this familial connection giving a feeling of belonging, which to me is the most inspirational thing I have, as it makes just being involved in the industry feel a little homely.
Tim Burton was a childhood hero of mine; I was introduced to his work through Sleepy Hollow which my eldest sister repeatedly says traumatized 3-4 year old me for some time. But I soon found out how unique, oddly relatable, and wonderful all his characters were, as I'm very sure some people reading have too.
Thomas Newman's music helps me focus. He's the musician I go to whenever I need to have a clear mind whether it be to create something, come up with a solution, or if I just want to go through the emotional rollercoaster of Finding Nemo again.
Tell us what a typical day is like for you…
I'm usually woken up by one of my cats attacking me at around 5am, then by my alarm at 8:50am, (working remotely has its late wake up perks!) just in time to freshen up and run downstairs to my office. I type 'good morning' in the all-crew chat, making sure to switch up my emoji from time to time. I try to spend the first portion of the day sending off the lighting scenes in Maya. From 1-2pm is lunch, or in my case brunch.
In the afternoon I'll address compositing notes and feedback. On average we do 5 shots per day, which gives a nice amount of extra time for addressing fixes. We do major reviews/feedback sessions every 2 weeks normally, and project wide catchups on Monday mornings. I often spend my evenings just playing a game or letting Netflix surprise me. I really need to add some exercise in their somewhere… one day.
What do you like most about working at Aardman?
I like that most of the time it just feels like I'm having fun and making a project with friends, who are all learning and growing just the same as I am. Lloyd of the Flies is such a rewarding experience, it's very charming, witty, well written, and I'm so proud to have my name attached to it.
I also like that I'm excited to talk to the people I work with each day, and I still feel very included in the company, and how it's structured in a way that, despite being remote, you don't feel left out and that you have a real presence.
What advice would you give to your younger self about getting into the industry?
A flaw I had and still have is my verbal communication. I jumble words to be nonsensical or have a different meaning than I intended. Working on this is something I should have placed at the same priority as creating a portfolio, and I have no doubt it hindered a few of my interviews. In fact, it was only due to the kind honesty of others recently that I realised how much of an effect this had. So, I'd tell myself to at least be aware of that.
What is your favourite character from Lloyd of the Flies?
Nutbum, it's a little tardigrade, incredibly cute, and I need one as a plush toy.