Published 31st August 2022
Aardman Equality, Diversity & Inclusion update, August 2022
Aardman is committed to being open and transparent about the work we are doing to improve representation throughout our workforce and to increase the level of on-screen diversity in our productions. This is the fourth in a series of regular updates documenting our progress. Please see links to our previous updates below.
Over the past six months, we have made the following steps towards achieving our Equality, Diversity & Inclusion (EDI) goals as outlined in our Diversity & Inclusion Charter:
We recruited and onboarded an Equality, Diversity & Inclusion Manager to support delivery of the studio's Diversity & Inclusion Charter and ensure that EDI is incorporated into everything we do. The studio is delighted to welcome Pauline Mallam to Aardman in this newly created role. Pauline is passionate about building sustainable and forward-thinking company-wide policies, as well as ensuring that Aardman's day-to-day operations are as inclusive as possible. Her experience includes six years working in EDI roles in the charity sector in London, developing strategies, policies, projects, and partnerships. She has already made an impact since starting with us in June, and we are looking forward to working with Pauline to implement the strategies and initiatives that she has begun to develop for the studio.


We rolled out more strands of our partnership with Netflix to support emerging and diverse animation talent, including:



The pilot of our 'Immersion Week' for school pupils with Ablaze, a local charity which exists to tackle inequality of opportunity for young people in the West of England:

In June, we ran a three-day workshop for a group of Year 8 pupils from Ashton Park School.
The workshop included practical sessions on model making, character design and acting for animation, as well as careers sessions highlighting the wide variety of different jobs available within the animation industry.
We received great feedback on the impact of the workshop, with 100% of the pupils saying they felt a lot more confident about themselves afterwards and that they had learnt about new careers, and 65% saying that they had a new or different plan for post-GCSEs having taken part.
BBC Bristol came along to the model making session – you can see the short video they made about the project here!



The development of our stop-motion animation course for 7- to 11-year-olds:

The primary aim of this course is to provide best-in-class educational experiences for children, increasing awareness and access to careers in animation for under 18s – particularly for those from under-represented groups. The course content will be available digitally and in formats that will enable it to be delivered 'in real life' in a classroom or workshop setting. All versions are supported by teaching & student resource packs.
The course is nearing the end of production and we're now in the process of finalising the teaching & student resource packs.
When production is complete we will start to roll the course out, focusing initially on the South West region and working with the team at the West of England Combined Authority's Careers Hub to engage with local school academies in the region.



The creation of three new trainee roles across Chicken Run: Dawn of the Nugget and our recently announced new Wallace & Gromit film:

Trainee Camera Assistant – the successful applicant has now begun work at Aardman!
Trainee Prop Maker/Set Dress – applications have been received and interviews will be taking place shortly.
Trainee Assistant Animator – applications have been received (326 in total!) and interviews will be taking place shortly.



We focussed on initiatives that would help make Aardman a more inclusive workplace for people with disabilities or long-term health conditions, people from less advantaged socio-economic backgrounds, and people of different faiths in particular, as identified is necessary by our recent staff survey. In this period:


Finally, we invited all our employees (who are known internally as 'partners' as we are Employee Owned) to submit t-shirt designs for the Aardman team to wear at this year's Bristol Pride parade. The winning entry, 'Love is Love', was selected by our Equality, Diversity & Inclusion Taskforce and designed by Senior Designer Sarah Matthews. As a result of producing the t-shirts and selling them, Aardman has been able to raise £325 from individuals for the charity, and in addition to this, is making a donation of £750 on behalf of the company itself to Bristol Pride.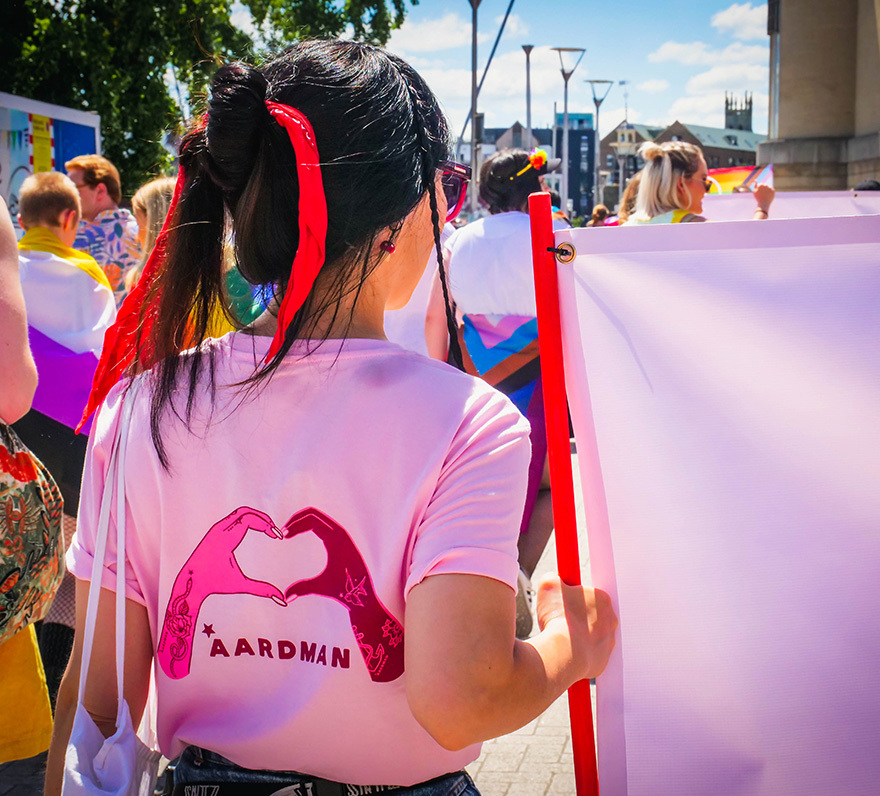 In the coming six months, i.e. from September 2022 to February 2023, we will be focussing on achieving the following things in particular:
Working towards Level 2 of the Disability Confident employer scheme.
Reviewing company-wide policies to ensure that EDI is incorporated at every level.
Developing a dedicated Anti-Racism Policy.
Conducting a deep-dive into recruitment methods with the aim of further broadening the reach of our job adverts.
Creating and sharing a calendar of Celebrations & Awareness Events (non-exhaustive) to support causes, share information and celebrate diversity across the year - all partners will be welcome to contribute things they'd like to celebrate, see, or feel passionately about.
Conducting our annual staff survey, which we will report on in our next update.
If you would like to know more about the above, or are a partner who would like to support one of our initiatives, please contact Pauline Mallam, our Equality, Diversity & Inclusion Manager, at Pauline.Mallam@aardman.com.
And in the meantime, please keep an eye out for Lloyd of the Flies, our brand-new family comedy series for 7- to 11-year-olds, which will launch on CITV in September! This production received funding from the BFI's Young Audiences Content Fund and was produced to the BFI Diversity Standards – which involved creating a whole range of trainee roles, apprenticeships and junior positions on the production (to help people take their first steps in animation or explore a career in the industry) and working with an incredibly talented, exciting and diverse voice cast, production team and writing team. We hope you enjoy meeting Lloyd B Fly and his friends next month!