Oh my. Where do I begin? Please indulge me as I wax lyrical about being involved in the most important project of my career. This was something really, really special.
*Takes deep breath* – I got to make an emotional, heartwarming and heartbreaking film for Greenpeace. Working collaboratively, using storytelling, humour and creativity to tell an urgent story of loss. Loss of a family member, loss of a home, loss of a habitat. Flipping heck, saying it out loud still blows my mind. What an honour it was to be a part of this.
The initial seed of the idea was always my disbelief at the difference between our responses to when we see disasters wreak havoc on humans' lives and habitats, vs. animals' lives and habitats. I wanted to tell a personal, yet universal story of family, loss and hope to best connect with audiences around the world. To encourage them to act and put pressure on the global governments and corporations who need to act now to prevent further catastrophe to future generations, both animal and human. It's one planet, the only planet, and we need to do everything we can to help protect the oceans. Hopefully this film can play a part in helping that happen.
With you now having a bit more context as to just how excited I am about this collaboration, let me take you down memory lane to share a bit more about the process of making 'Turtle Journey'.
It began with the story
For the pitch and initial conversations with Greenpeace, I'd written a 2-page document detailing the broad outline of what happens in the film. That was our starting point, but there was a lot of work to be done. The crux of the film was the naturalistic dialogue, complete with family-authentic everyone-talking-over-each-other speech. That means there were an awful lot of words that needed to be written! We worked with the wonderful Sam Morrison, a fantastic writer and Aardman stalwart, to flesh out exactly what the script could be. There was a brilliant back and forth process between Sam and myself, as we'd worked together before, which meant there was great fun to be had working out the naturalistic dialogue and tone of the family.
At the same time as the script was being developed by Sam, we began character designs for the turtle family. This was handled by the fantastic Sylvia Bull, who is a veteran of Aardman, with her designing some of the original Creature Comforts characters. She even brought her original pencil drawings in, which was a treat to see! Watching Sylvia draw the toddler turtle and mum turtle interacting was fantastic. In just a few strokes of a pencil, it felt like that drawing encapsulated the film. It was both beautiful and tragic (given the ending of the film…)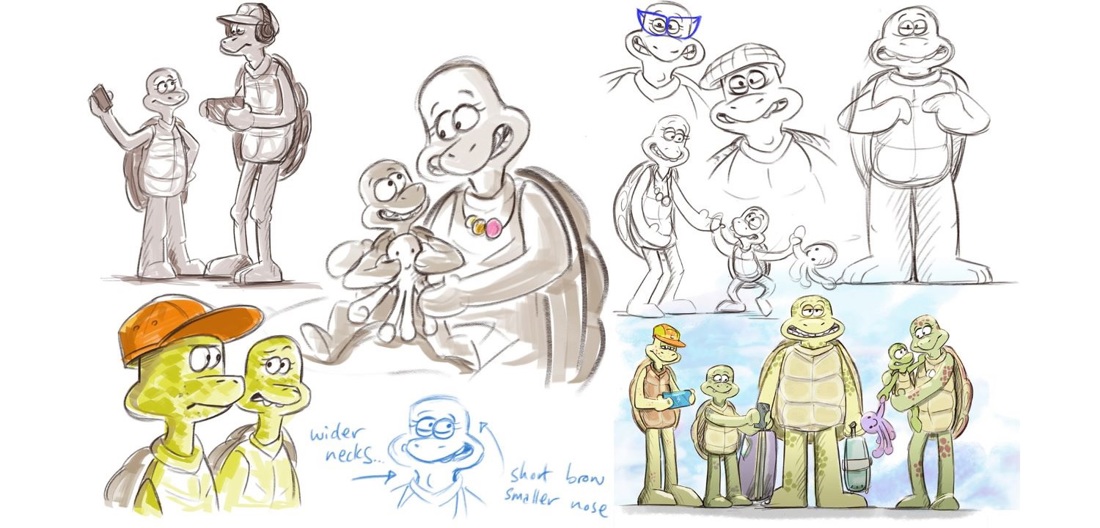 Whilst that was happening, the design of the environment had begun too. Davide Mastrolonardo joined the team, bringing his extraordinary use of light and colour to our underwater world. Davide was many things to us; concept artist, colour script creator, undersea architect – he brought the environments to life. One of the other and most important creations was the design of the vehicle that the turtle family use on their journey.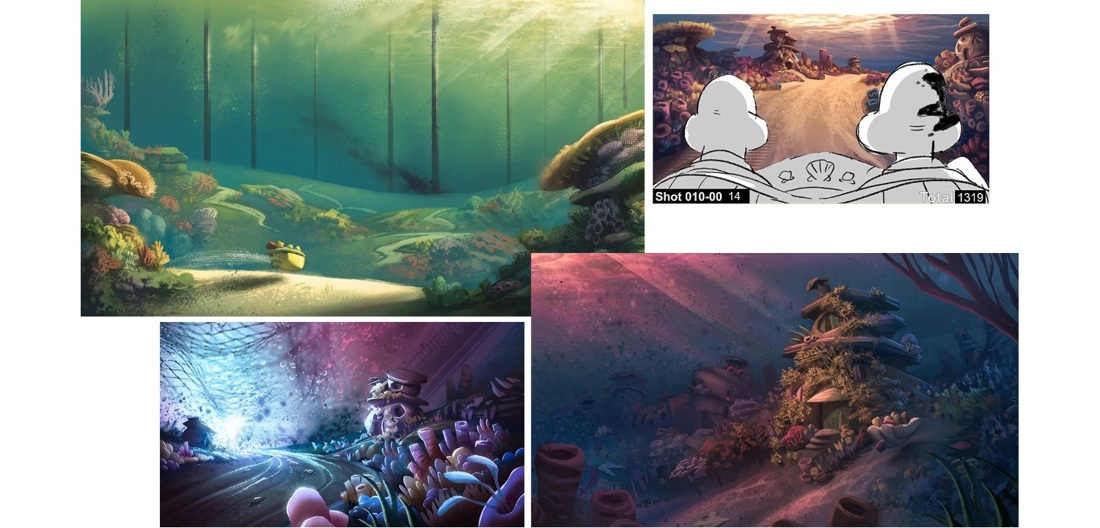 It went through many iterations, but eventually we settled on a very organic, almost Flintstones-inspired clamshell car/boat. The design of this was especially important because it would be brought to life by hand, courtesy of the wonderful team at Mangostone. Laurens, Tony, Kes, Charlotte, Grace & Gus crafted the clamshell car and its interior at their workshop in South Bristol, and it was a real treat popping over there and seeing what they were making. Complete with kelp-lined seats, a seashell steering wheel and a stack of organic sea-shaped luggage, it was hard to contain my excitement at seeing such a wonderful creation! I'm a toy collector, and seeing these experts create what was essentially a giant toy car-slash-boat reduced me to feeling eight years old again. It even had working headlamps. Mind-blown-emoji.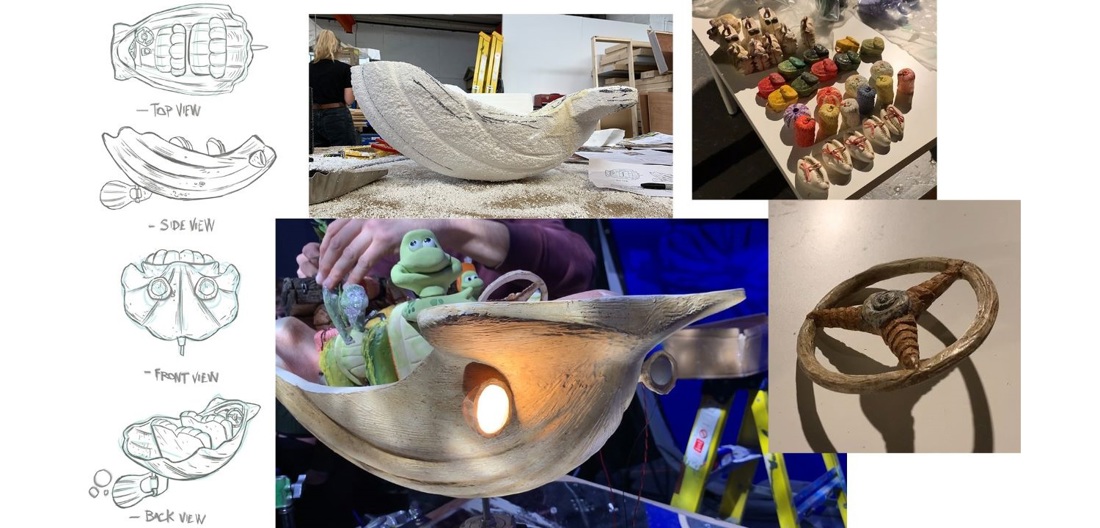 The building frenzy wasn't just contained to the physical realm, though. Aardman's CGI team were hard at work building the expansive environments that the Turtles would be traversing. Lead by CG Supervisor Rich Spence, the team sculpted coral, rocks, vegetation, nets, plastic, pollution and everything in between. CG Artist, Trine was working remotely in San Francisco, building the homes for the turtles, whilst here in Bristol Helen and Martin were constructing the ocean landscape. Helen was digitally sculpting the individual elements whilst Martin used Houdini to build a system that let him procedurally populate the large environments in the backgrounds, whilst letting him manually dress the important foreground elements. It was a sight to behold and gave us great flexibility in designing and building the scenes.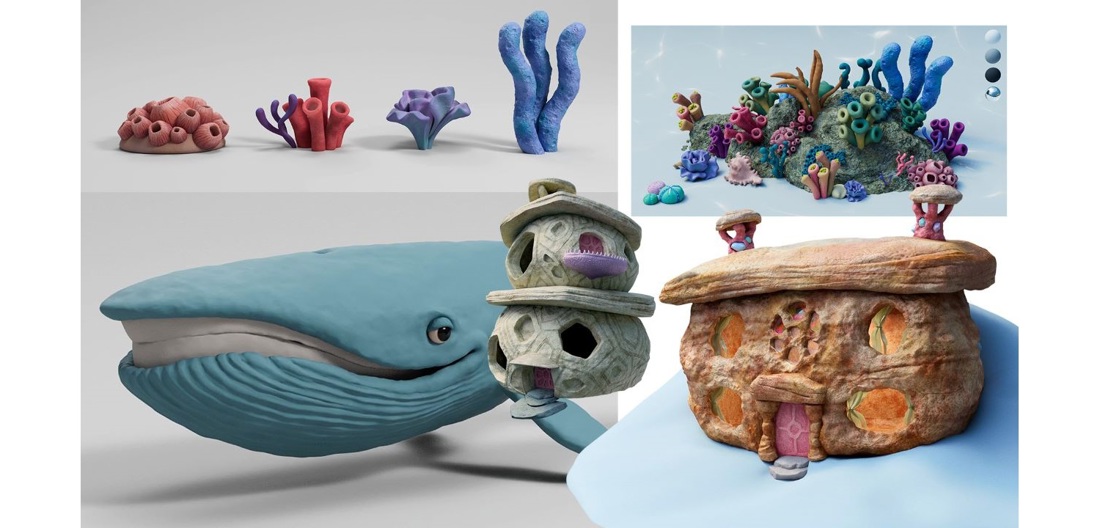 The stars of the film, our turtle family, were lovingly constructed by our magical model making team, led by Chris Entwhistle, otherwise known as Enty. George, Bronnie, Tandie and Enty came together as a team to build 7 puppets, plus one very, very small starfish! The heads and limbs of the turtles were sculpted with clay, with the shells made from cast resin. Each shell was painted by hand, with its own unique pattern and colour for each character. Thing is, there were actually 3 copies of each character, so that gorgeous natural hand-painted finish had to be replicated perfectly each time!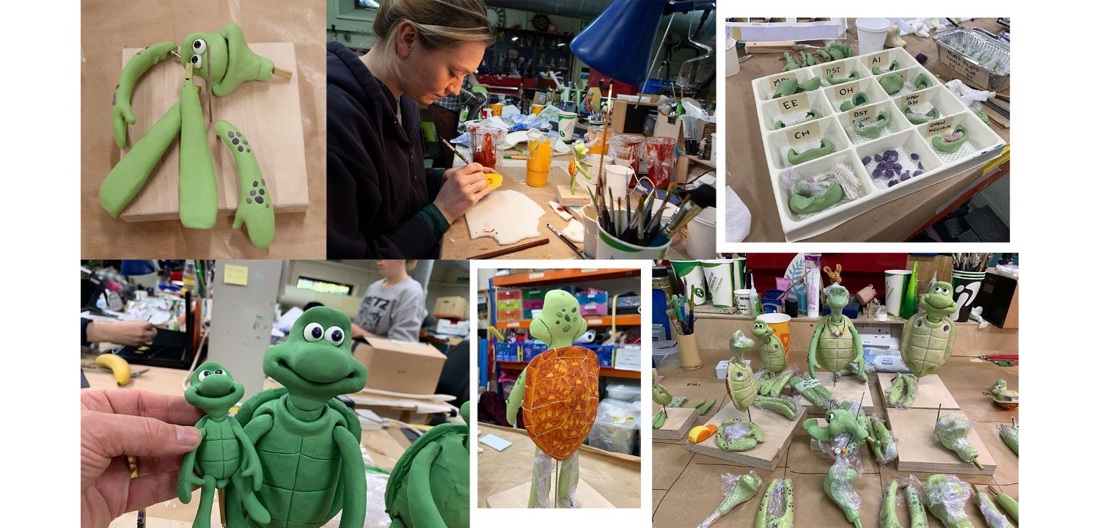 One of the most striking things about sea turtles is the beautiful markings on their skin. I really wanted some of that aesthetic on our puppets, but with our models being so small, it's difficult to have anything on the clay that won't be in the way for an animator. In the end, model making created small silicone shapes which were pushed into the clay but away from joints and areas that would interfere with the animation (and look like it was 'boiling', which can be distracting if not desired!). The minimal approach to just a few markings on each turtle worked a charm, and it felt like that detail just gave them a little extra life.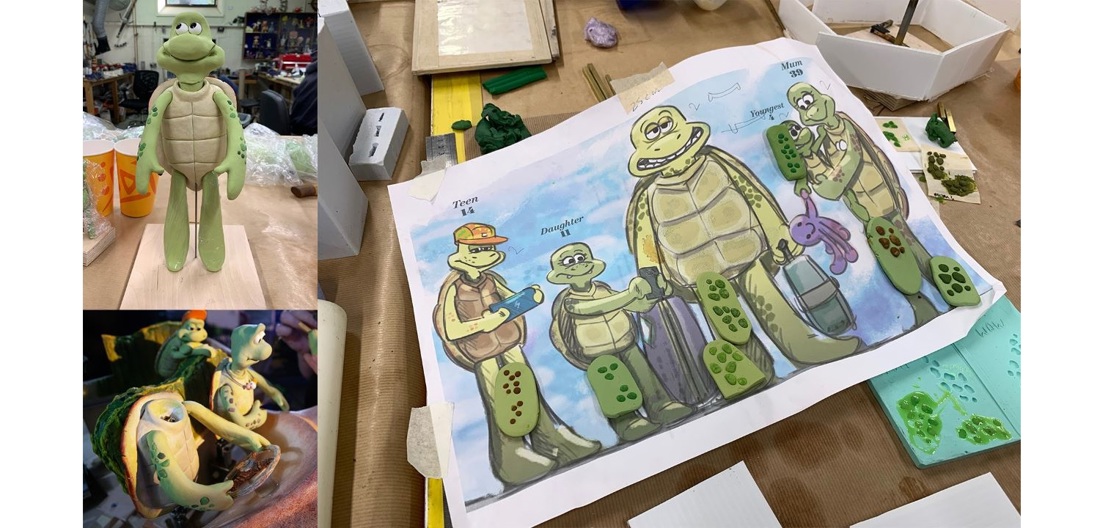 The props were a story in themselves, too. Crafted by George Watson & Helen Javes, they are miniature marvels of craft and technology. The small 'games console' and 'phone' that teenager and daughter turtle hold contain 'electronic paper' inside them, which, when given a small electrical charge, give off an almost bioluminescent glow, illuminating the characters holding them. The tiny octopus toy that the toddler holds is a beautiful little prop, at no bigger than a human thumb, it still features a wire skeleton inside and is made from felt, so it has that real cuddly toy feel!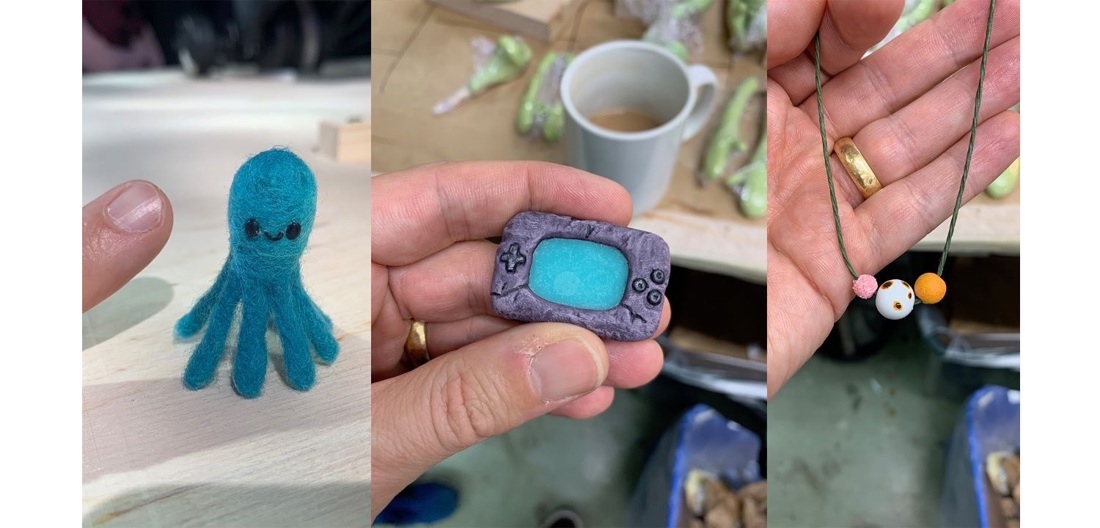 One thing we needed to get before we started shooting was voices. Oh boy, did we get some voices! Olivia Colman, David Harbour, Dame Helen Mirren, Jim Carter, Bella Ramsey, Ahir Shah, Callie Miller and Giovanna Lancellotti all kindly lent us their dulcet tones to bring the film to life. It was so very exciting to work with all these great talents. It was also, as you'd imagine, very surreal; directing Hopper from Stranger Things in New York via the telephone in Bristol or getting to work with two literal Academy Award®- winning Queens. (Fun fact: Olivia Colman won the Academy Award® for playing Queen Anne in The Favourite, and Helen Mirren won the Academy Award® for playing Queen Elizabeth II in The Queen. That noise you can hear is my brain exploding with excitement).
It was a wonderful experience to work with all those people and as soon as they started delivering the lines, the characters really took on a life of their own. As well as what was written in the script, every line had many 'alternates' written that were slight variations of the tone or delivery. That gave us a flexibility in the Edit suite to really build a naturalistic feel for the family.
With all those pieces of the puzzle in place, it was time to bring things to life on the studio floor! We had a superstar team of animators, many of them fresh from Aardman's latest feature film, A Shaun the Sheep Movie: Farmageddon. Alison Evans, Gareth Love, Inez Woldman and Lee Wilton were the geniuses responsible for bringing each character to life, one frame at a time. One thing that made animation particularly tricky was that, thanks to our naturalistic style of dialogue, there's a lot of talking that overlaps, as well as at least 3 characters being in-frame at any one point. The opening shot features six turtles all talking and moving at the same time. It's controlled chaos and that's what gives it that natural energy of any family crammed together on a long journey home. No one waits their turn to speak!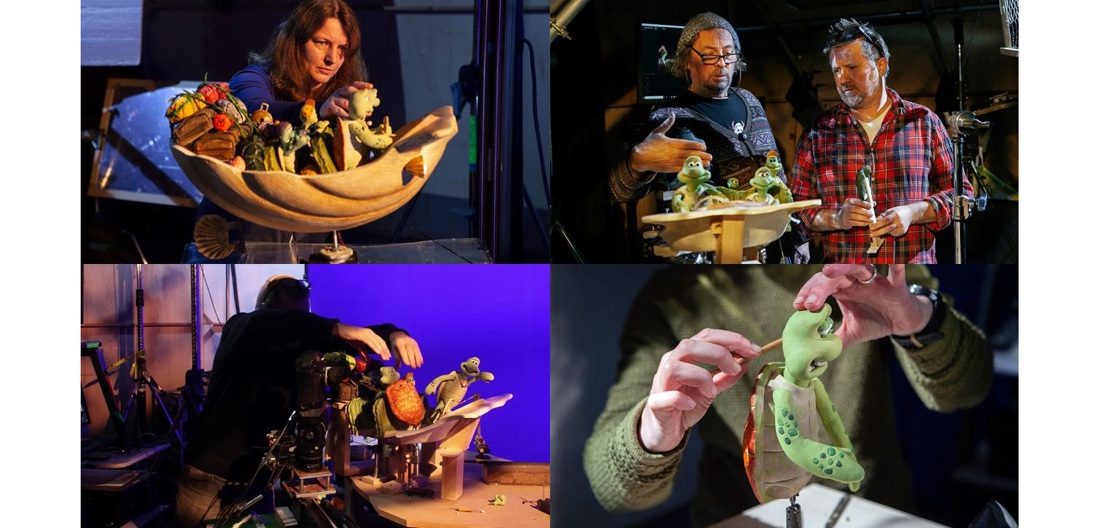 One of the most fun parts for the process was creating 'LAVs' – Live Action Videos. They are reference videos, for the animator, for the performance of the scene. I ended up creating one for each shot, and with our film being set in the back of the clamshell car, I got to play the part of mum, dad, teenager, and toddler! I even did one for the heartbreaking scene at the end of the film, where dad is heartbroken and lost for words. That was a tough one to do. I ended up finding a quiet place in the studio and watched some pretty heartbreaking stuff before I hit record, so I was in the right headspace. Actively crying at work, for a project, was something new to me. I'll spare you having to see that one, so here's one of the most fun LAVs instead: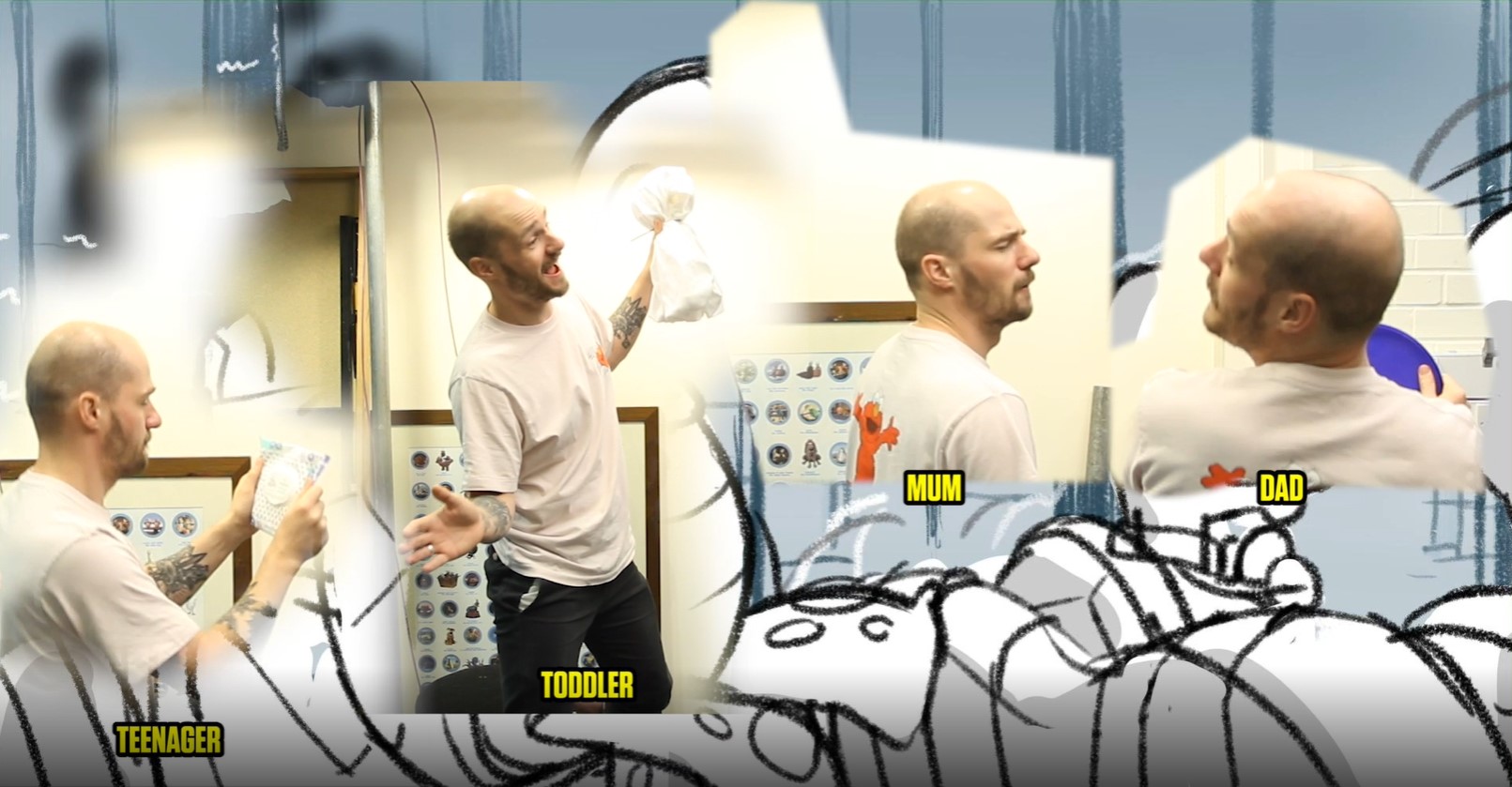 The set-up of the studio was also ambitious. We wanted to replicate the lighting conditions found under the sea, especially the 'caustics'; the way the beams of light from the sun move and displace underwater. This was handled, via an ingenious solution, by our wonderful DOP Simon Jacobs and the studio team Egg, Damien, Sam, Tom, Guy, Nat and Adam. Two plates of rippled glass in front of a light, one with a motor on it, which moved it, just a tiny amount, every time the camera shutter was pressed. To give the opposite effect – dappled shadows – a bike wheel with black organic tape wound around its spokes was connected to another motor which also moved it, one frame at a time.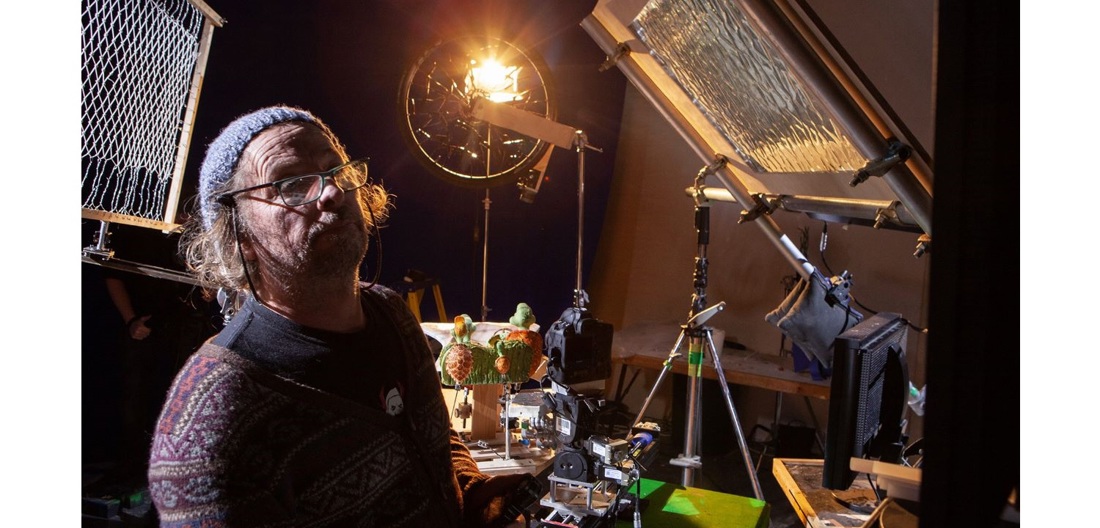 Having those practical lights affecting the stop-frame puppets meant that when the animation was combined with the CGI environments, it all sat together and integrated beautifully. The CG lighting team would be informed by what was happening on the studio floor, and vice versa. For each shot there was a great dialogue between everyone in the team. Some of my favourite moments was when all the crew were huddled around an animation tower, looking at a test, everybody bringing their knowledge and expertise to make each frame look and feel perfect!
Here's a small behind-the-scenes reel I cut together to show you just some of the aspects of what went into making this film: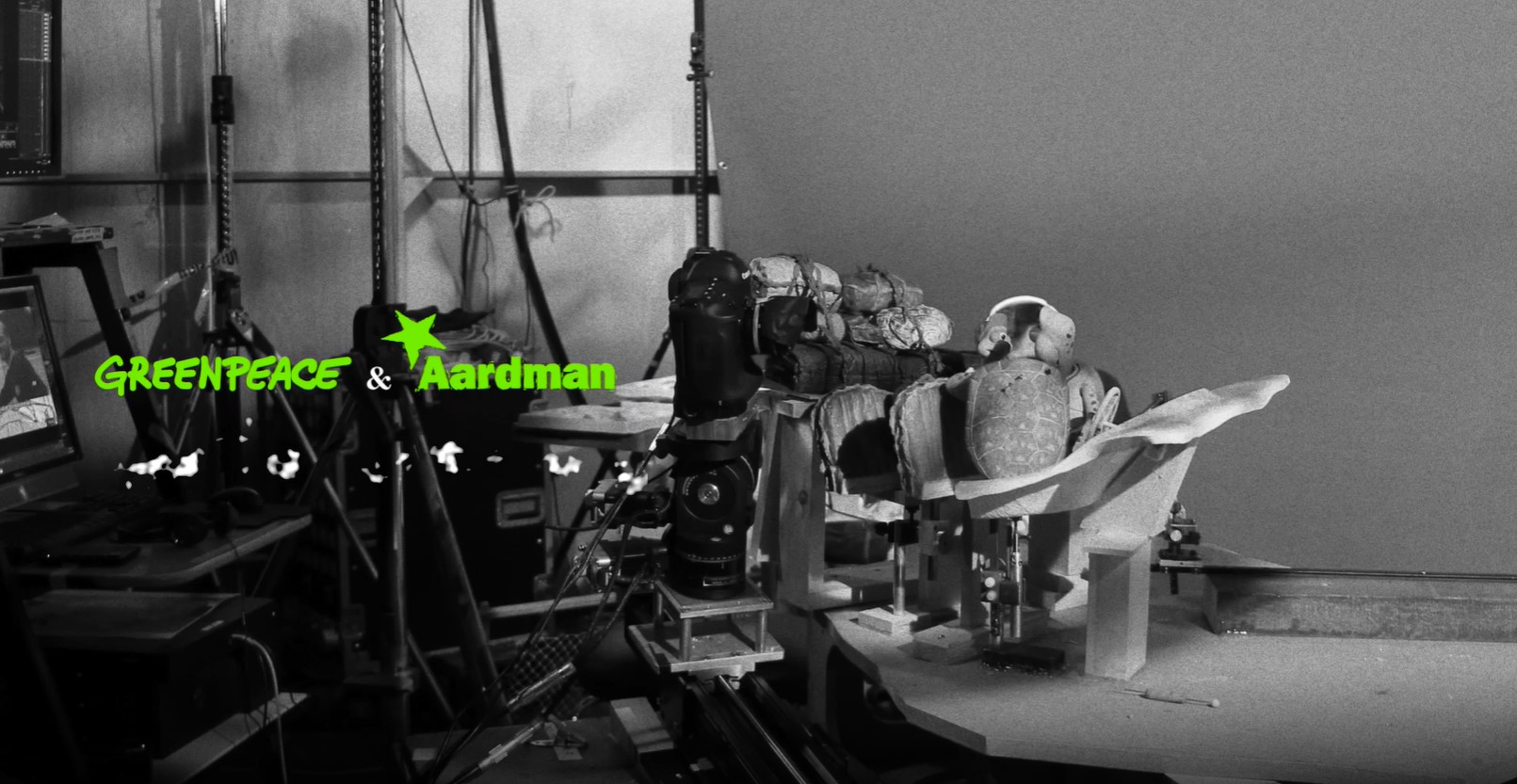 I could go on and on about this project until the ends of time. It's so much more than a project, more than a film. These kind of opportunities are so, so rare, and I'm incredibly grateful and thankful to Greenpeace for allowing us to tell this really important story.
Brought to life by a stellar cast of world-class voice talent and then topped off by a simply sublime score from Arthur Jeffe's Penguin Cafe, this whole process has been like a dream. I am immensely proud of what we've all made together. Hopefully you will laugh, cry then feel galvanised to take action.
It was an absolute dream to work with such a talented crew of animators, artists and creators here at Aardman, manipulating clay and pixels to make such a nuanced and delicate piece of animation. This is something I'll never, ever forget.

Gavin is a Director and Designer at Aardman. Working at the studio for over a decade, Gavin's creative output ranges from title sequences for the OFFF festival and Shaun the Sheep Movie: Farmageddon, to channel idents for BBC Two and Christmas films for Fortnum & Mason.
View Gavin's full bio
Have a similar project you'd like to discuss? Leave your details below: