Published 6th February 2023
Studio Spotlight: Florence Logan
We're marking National Apprentice Week by shining the spotlight on Apprentice HR Administrator, Florence Logan. Read on to learn more about Florence's role, and why she loves learning on the job.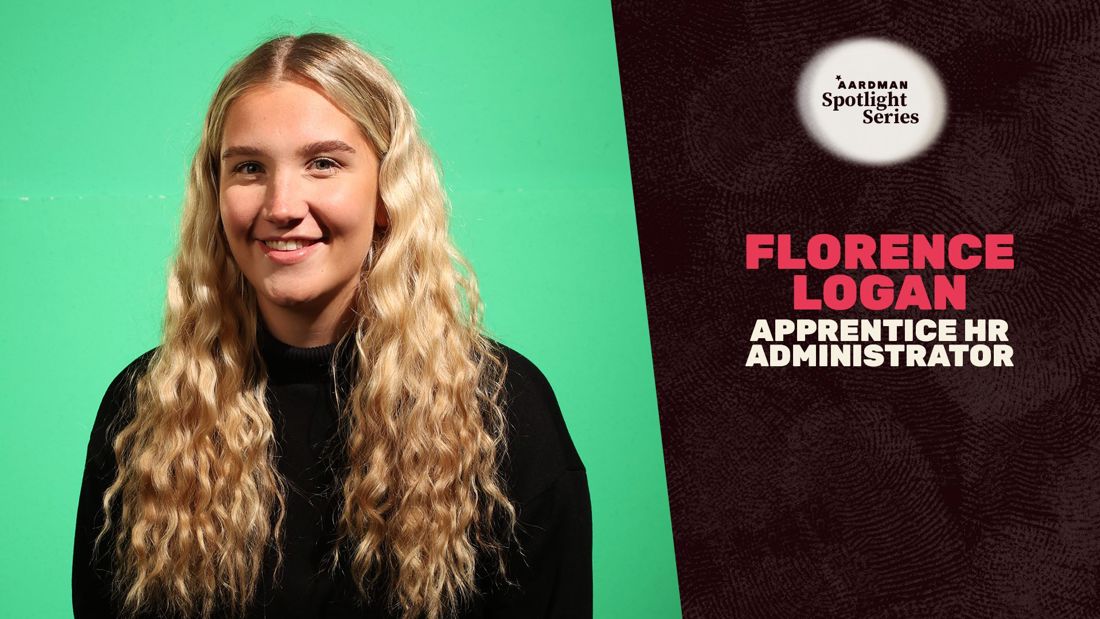 Tell us about your role at Aardman – describe a typical day:
A typical day for me is arriving at our Aztec West studio for 9:30am. Whether I am working from home or in the office, I log on to check my emails. I then priorities my tasks. This could be anything from creating and sending out new contracts or contract extensions, answering rate queries, holiday entitlement queries, organising interviews or having HR check-in meetings with the rest of the team. If I ever have any questions the other HR team members are always more than happy to assist me.
What are the benefits of your apprenticeship programme?
My apprenticeship programme comes with many benefits such as learning on the job, gaining that practical experience alongside the theory side which is taught through college. I have been able to complete many different types of training whilst in my apprenticeship role which helps towards my end goal of completing 20% off the job training. I am also given a Tuesday afternoon to focus on my studies, this time can be used for online/in person lessons with my tutor or used for self-study. This helps to keep on top of my work and complete assignments.
What's your all-time favourite project that you've been involved with and why?
Coming into an environment like Aardman has been amazing and very different to anything I have done before. However, I think my favourite thing has been being able to be involved in Chicken Run: Dawn of the Nugget, seeing behind the scenes and an insight to the film so far. It's been so exciting seeing a film from my childhood come back to life.
To date, what has been your biggest professional achievement?
I think my biggest professional achievement to date would be finding my apprenticeship at Aardman. It took me a while to find one, having taken on another apprenticeship at a different company and not enjoying it, but when I was offered this role I was thrilled. It is so different to anything I have ever done before and I get on really well with my team. It is the true team environment I was looking for!
Who inspires you and why?
Considering I am only just starting out in my career, every day I am inspired by all of the talented people around me.
Who is your favourite Aardman character and why?
My favourite Aardman character is Shaun the Sheep as I always remember watching the show when I was growing up.