Published 9th February 2023
Studio Spotlight: Rowanne Swain
To round up National Apprenticeship Week, we're shining the spotlight on Licensing & Live Events Administrator, Rowanne Swain. From coordinating secret projects to finessing her model making skills, read on to learn more about Rowanne's varied role within Aardman's Sales and Marketing department.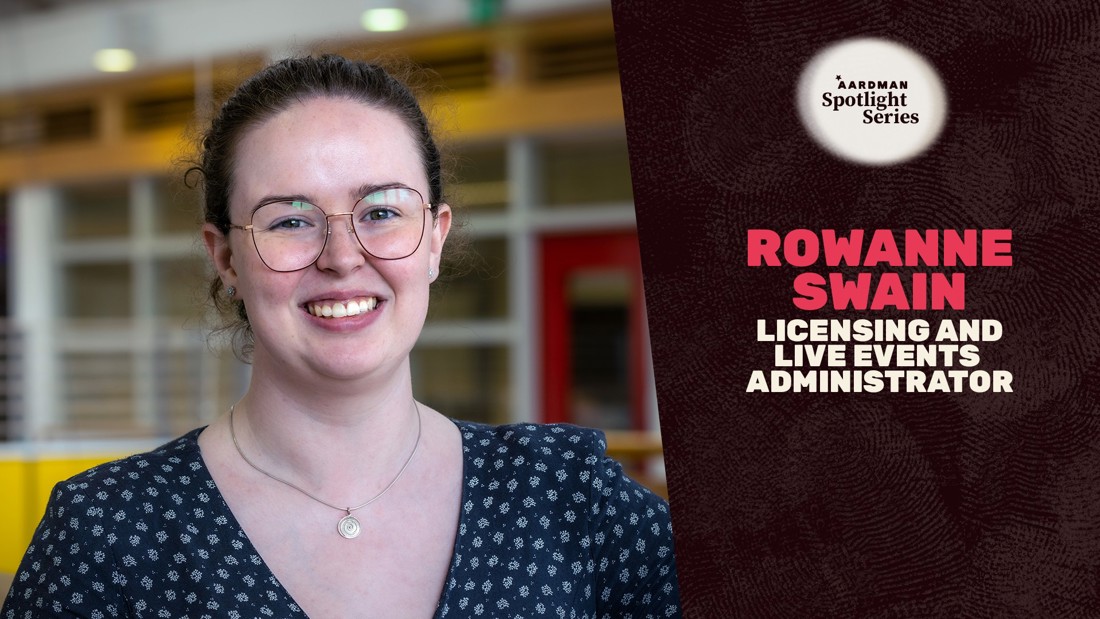 Tell us about your role at Aardman – describe a typical day:
My role is quite varied, I work as a PA for the Commercial Director, but the bulk of my work is completing administration tasks for the Licensing and Attractions & Live Events teams; I am also a member of the internal Support team and a Microsoft Teams Champion within Aardman.
One day I could be coordinating international agent meetings, testing the tech for a webinar or doing something as simple as filling out paperwork for the model making workshops program. Occasionally as part of my apprenticeship, I am lucky enough to accompany our workshop model maker as an assistant to corporate away days and school events and work on my Morph-making skills!
What are the benefits of your apprenticeship programme?
I enjoy that my apprenticeship allows me to learn about many different areas of Aardman, and I can shadow other departments when I'm not too busy in my day-to-day role. Also, crazy enough, I immensely enjoy attending my business lectures and completing assignments, something I never thought I would admit to!
In summary, having the freedom to learn and make mistakes in an environment where everyone is supportive helps build my confidence in my skills and abilities. If all goes well, I will hopefully have a place at Aardman for many years to come.
What's your all-time favourite project that you've been involved with and why?
I have only been at Aardman for eight months, so I still feel I don't have an answer to this! (Also, many of the projects I work on are still top-secret!) For now, being an escape room tester for the new Wallace and Gromit escape room in Bristol was a big highlight. I highly suggest a visit! My team made it out with six seconds to spare, but remember that some of the puzzles were a work in progress, and our feedback then actively changed the room's design. It's nice to know you've made a physical improvement to a physical attraction in the world.
To date, what has been your most significant professional achievement?
Now that's a tricky one; I think even securing an apprenticeship at Aardman was a triumph. During my time at Aardman, I would have to say managing the logistics of our German agents' visit and everything going according to plan was a notable achievement.
Name three people who inspire you and why:
I will have to cheat here a little bit and count my whole family as one person. Still, with a special mention to my Mum, Dad, friend Krizzah and partner Cal, I wouldn't be who I am without them, and they have shown me through their hard work, determination and selfless natures that kindness and compassion lead to all good things in life.
My team of course, is also a massive inspiration, with a special mention to Julia and Hannah, my line managers. I wouldn't be anywhere as near as confident in myself and my role at Aardman without the expert guidance, compassion and support that they have shown me during my apprenticeship. They inspire me to do my best, which couldn't be more important from managers!
And finally, Miriam Margolyes for her confident personality, thoughtful and outspoken options on all matters in the world, and her wit that always makes me smile.
Who is your favourite Aardman character, and why?
1000% Feathers McGraw, whenever I was younger, I considered going into a life of crime because of this "chicken".