Published 29th January 2021
Aardman partners with Atari to bring Shaun the Sheep to Rollercoaster Tycoon Touch
Aardman is excited to have partnered with Atari, one of the world's most iconic consumer brands and interactive entertainment producers, to bring the eccentric cast of the internationally loved children's television series Shaun the Sheep to the popular theme park management series in RollerCoaster Tycoon® Touch™ for mobile devices.
Spun off from the iconic Wallace & Gromit films by Nick Park, the titular sheep Shaun and his flock of charming friends arrive today in the new Shaun the Sheep season update in RollerCoaster Tycoon Touch — adding branded rides, character statues, and various Shaun the Sheep-themed attractions.
"Much like RollerCoaster Tycoon, Aardman is a well-loved brand with years of global prestige; it's a brand that fans can count on to bring fun and endlessly charming characters to whatever they work on," said Tony Chien, VP Marketing of Atari. "This partnership allows us to bring a fresh yet well-known face to RollerCoaster Tycoon Touch. We are thrilled to share all of the creatively themed content that the world of Shaun the Sheep offers to our fans."
"RollerCoaster Tycoon is one of one the world's most recognized and established amusement park building game franchises," said Adam Vincent-Garland, Category Manager, Interactive and Toys, Aardman. "Shaun the Sheep attractions have been entertaining families across the globe for years, so it only made sense to bring Shaun to the beloved mobile game. Players will be flocking to customize their parks with new and hilarious rides and attractions featuring everyone's favorite fuzzy friend!"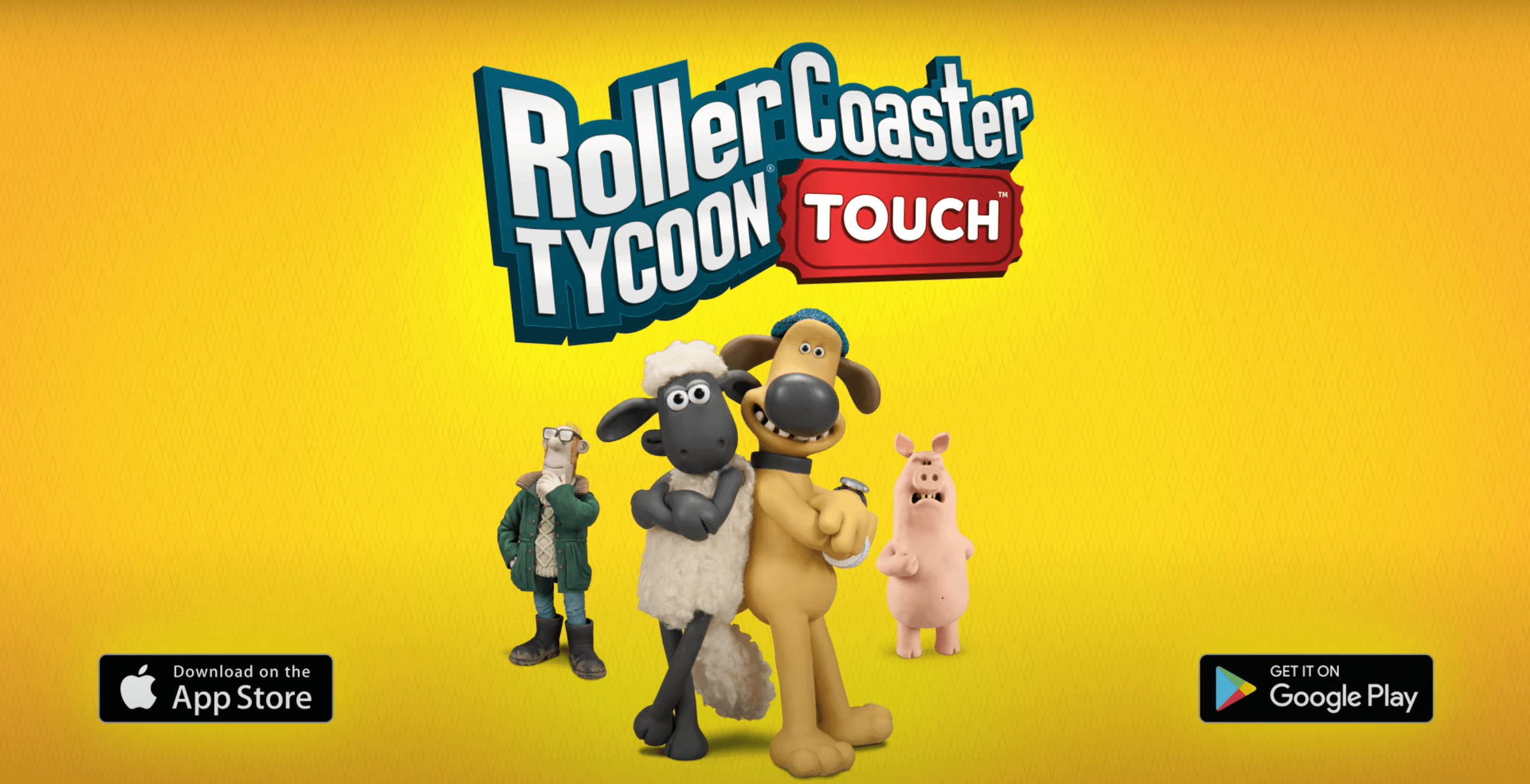 The Atari partnership with Aardman allows the beloved series to come to life in RollerCoaster Tycoon Touch with 15 new themed rides and attractions inspired by the world of Shaun the Sheep. Park visitors can get a high-level view of frantic farm madness by riding the Tower of Sheep and Lu-La's Helter Skelter, stop in for a slice of 'za at the Shaun the Sheep Pizzeria (or brave the pizza-themed Baa-gherita ride), and strap into the Shaun the Sheep Farmhouse Coaster! Players can also collect statues of fan-favorite characters including the Farmer, Bitzer, Timmy, and of course, Shaun himself! Shaun the Sheep rides and attractions are available via the in-game store or unlocked by completing in-game challenges.
To download RollerCoaster Tycoon Touch, please visit:
App Store: http://bit.ly/2jmGTxS_IOS
Google Play: http://bit.ly/2qk4oyI