Production Spotlight: Alistair Stuart
This week, we're shining the spotlight on Junior Assistant Animator - and Golden Morph winner - Alistair Stuart, who tells the inspiring story of how he came to work at Aardman.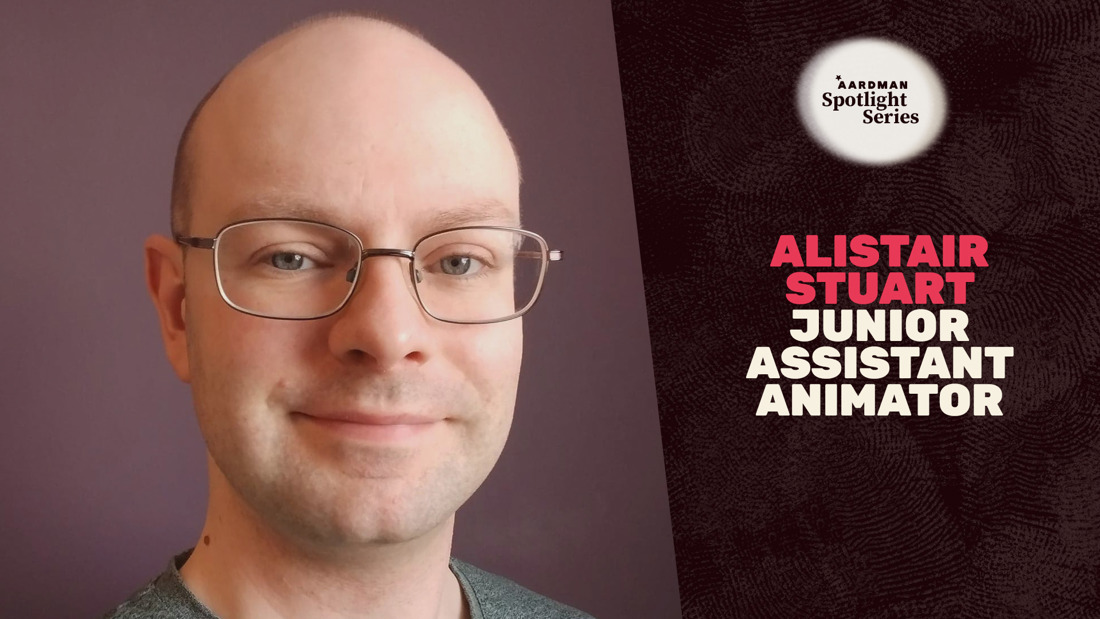 Tell us about your career journey...
In 2008 I graduated from a three-year animation course at Glyndwr university in Wrexham. I set about applying for animation jobs straight away but didn't have any luck. Needing a job, I ended up working in food retail which is where I stayed for 12 years!
During that time, I tried to keep my hand in with animation by entering competitions that I found online. The first time I won a competition was with an entry for a contest being run in partnership between Aardman's AnimateIt! and the Let Nature Feed Your Senses project in 2012.
Then in 2014, to celebrate Morph's return with 15 new episodes, Aardman ran a competition to create a Morph animation of no longer than a minute. This would later go on to become the yearly Golden Morph competition.
I was chosen as the winner of the over 16s category and received a Morph that had been used in the production of the new episodes. He is proudly on display in a glass cabinet at home.
I continued to enter the Golden Morph competitions in subsequent years in an attempt to win a Golden Morph statue to go alongside my original Morph.
Fast-forward to 2021 and I was made aware of a listing for a traineeship placement being held at Aardman during November and December and was encouraged to apply for it. I sent off my details and a link to my YouTube channel but honestly didn't expect to hear anything back and so I was caught completely off-guard a few weeks later when I received an email asking me to attend a video interview.
I spoke to Aardman's Head of Animation Loyd Price who explained that it was the work I had created with Morph for the competitions that had made me stand out from the other applicants. A couple of days later and I got a phone call offering me the place!
It was a fantastic opportunity and experience to take part in the traineeship. It was amazing just to be able to step inside the famous Aardman Gas Ferry Road studios.
At the end of the traineeship, everyone that had taken part was offered the opportunity to come back to the company in the new year to work on the current Chicken Run: Dawn of the Nugget production and that's how I began my position here as Junior Assistant Animator in February.
When did you first discover your passion for animation?
I wouldn't say that I can pinpoint when I discovered my interest in animation exactly as it just kind of developed naturally over time.
I have always been a creative individual for as far back as I can remember. It started out with cartoon drawings and model making, moved onto comics, and then transitioned into wanting to see the characters I had created come to life and move around on their own like the cartoons on TV.
I didn't properly start experimenting with digital animation until the later half of secondary school. Before that I had played about with making flip books and making animations in the corners of the pages in some of my drawing books.
I started out with creating 2D animations on the computer using Microsoft Paint for frame editing and creating, and Windows Movie Maker to compile it all together with sounds and music.
I made the change to stop-motion because it made use of my model making skills and I find there is something magical about knowing that the characters and creatures you see on screen do exist in the real world. You can physically pick them up and hold them in your hands.
My parents have always been very supportive of my creativity and while I was still at school, they bought me a digital camcorder as a gift one year to enable me to experiment more with stop-motion.
Eventually I went to study animation university where I got to learn more about the fundamentals and gain experience working as a team on projects together with other students.
Who are your industry icons?
It should go without saying that Peter Lord and Nick Park are two individuals that I look up to in the industry for their creativity and the characters that they have brought to the world and how much they have featured in my life growing up.
I grew up watching Morph on the art shows Hartbeat and SMart where he would get up to mischief and cause a nuisance for the presenters as well as featuring in his own solo shorts.
I think my first introduction to Wallace and Gromit was in The Wrong Trousers! I loved the weird and wonderful contraptions that Wallace had designed and the world that he inhabited.
Without these influences I would probably have never developed the love of animation that I have.
Outside of Aardman, a name that sticks with me is Henry Selick for his work directing on The Nightmare Before Christmas and Coraline, both films which I thoroughly enjoy.
Tell us about your role at Aardman:
My official title at Aardman is Junior Assistant Animator. This is my first time working on a professional stop-motion production of any kind so there is a lot I'm still learning.
My role, while currently working on the Chicken Run: Dawn of the Nugget production, typically involves creating the mouth sets for all the characters from clay as well as cleaning the sets that have been used by the animators already so that they can go back out again looking like new.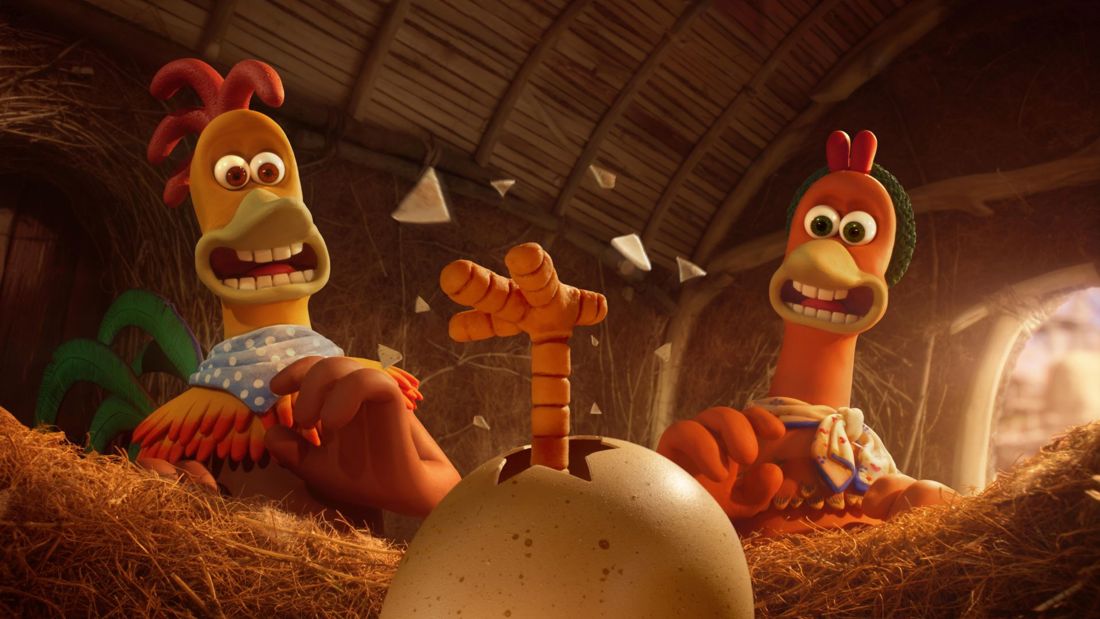 We sometimes get tasked with creating more unique parts for specific shots and occasionally help the animators and directors by filming "push-throughs" and "blocks" to help them get a sense of timing and motion before they animate the final shot. We even get to animate final shots ourselves sometimes which is great because then I can actually point at the screen and say, "I made that!"
What are your plans for the future?
At this current moment in time, I have to say that I honestly don't know. I still wake up and have to pinch myself some days as it still feels so surreal to actually be working for Aardman! I almost feel as though I will wake up one day to find it's all just been a dream.
I haven't really thought much about what might lie beyond the end of the Chicken Run production yet as I can easily get overwhelmed. I'm just trying to take one day at a time right now.
If I was ever given the chance to work on a Wallace and Gromit production, I don't think I would be able to pass up that opportunity though. To work with a character that has been such a large part of my childhood would be amazing!
Who is your favourite Aardman character and why?
Morph has to be my favourite Aardman character. He has such a simple design but contains so much personality. He always has such amazing adventures on his desktop home and can have so much fun by being able to shape shift but there's also the fact that it is now thanks to him that I've made my way into being a part of the Aardman family.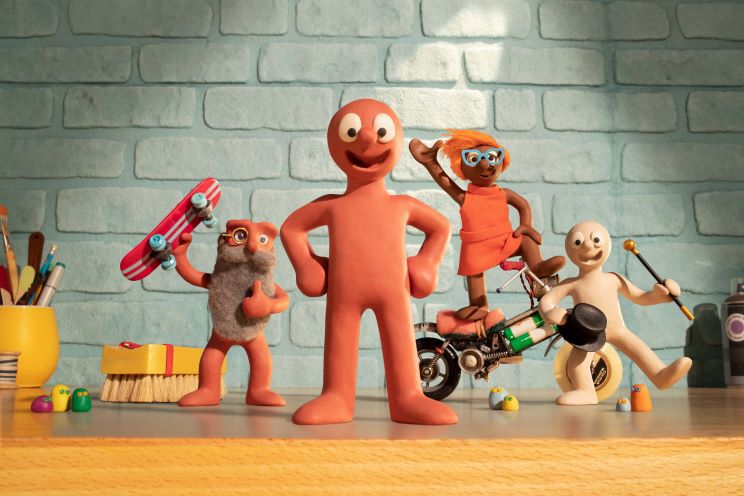 I'd also like to give a shout out to the cooker on the moon from Wallace & Gromit: A Grand Day Out as well. He comes in a very close second.